Books
Blowback
Author: Amy Block Joy
Publisher: CreateSpace Independent Publishing Platform
ISBN: 978-1542999663
Pages: 246 (paperback)
Catalogue: Autobiography; Personal Memoir
Date of Publication: March 27, 2017

Blowback is a non-fiction, first-person memoir about the unintended consequences of failed workplace ethics. Blowback, a prequel to Whistleblower (Bay Tree Publishing, 2010) is based on real events that took place before the whistle was blown.
Faculty member, scientist, educator, and program director Amy Block Joy loved her job at the University of California, Davis. For two decades, she administered a popular and highly successful poverty program that provided millions of collars in education and training to people who needed it most. Working diligently to enforce the federal, state, and university rules, she was frequently criticized by her colleagues and supervisors for not getting more and more money for them to spend. After the federal government requested an extensive audit of the program, her policy of keeping tight rein on millions of federal dollars was confirmed by the audit results. Not deterred by threats or what her esteemed colleagues and supervisors, Block Joy focused on making a difference in the lives of the program's needy families.
An Excerpt
My story began on Valentine's Day 2002, when I arrived early for my 1:00 p.m. meeting with Marco Sanchez, the Vice President of the Environment at the University of California. It was raining when I entered the 28-floor building and took the elevator to the sixth floor.
I walked briskly to the meeting location, pulled open the heavy door, switched on the lights, and stepped into a large air conditioned conference room overlooking Lake Merritt in the middle of Oakland, California. Selecting a chair from around the luxurious cherry wood oval table, I sat down, facing the door. I took a deep breath and was ready for the showdown.
I'd worked for ten years in this building and on this very floor. The conference room seemed unchanged, although the sign "No Food or Drink Allowed" that was taped to the door all those years ago was gone. Also missing was my belief that the University of California Office of the President (UCOP) was part of the university's mandate to provide public education. Today, the cold room had all the earmarks of a corporate ivory tower.
Retaliation
Author: Amy Block Joy
Publisher: Create Space Independent Publishing Platform
Developmental Editor: Alan Rinzler
ISBN: 9-781482-651-331
Library of Congress Control Number: 2013904440
Pages: 208 (paperback)
Catalogue: Autobiography; Personal Memoir
Date of Publication: July, 2013
Distributor: Create Space Independent Publishing Platform

Retaliation is a first person account about the danger of speaking out in the workplace. Amy Block Joy, a faculty member at a major public university and director of a federal program, knew what she had to do when she discovered apparent fraud at her university. Following university policy, she reported her suspicions to her supervisor. When her report was ignored, she blew the whistle, asking the university to take action. Her allegations of misuse of government funds were investigated and eventually substantiated by campus authorities.
Eleven months later, when the fraud findings were about to be released, she became the target of an elaborate smear campaign and a number of terrifying activities. Refusing to give in to intimidation and fear, Amy Block Joy fought back and won. Retaliation chronicles how far some people and institutions will go to silence the truth and how to overcome those efforts.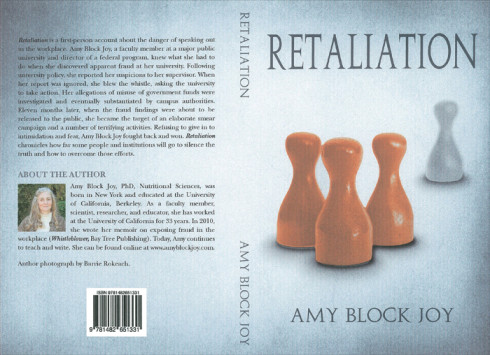 An Excerpt
It was raining on January 29, 2008 when I arrived at Davis.  The sole purpose of my journey was to read the retaliation report.  I went up to the Chancellor's office and was met by my escort, Tamika Reeves, the executive assistant to Chief Academic Resource Executive Valerie Yu.  It was 2:00 p.m.
I was asked to leave my purse in Tamika's office.  We got into the elevator and pushed button B2, a basement floor under the Chancellor's administrative building.  This floor contained unoccupied offices.  We walked down a dimly lit hallway and found the room assigned to me.  Tamika entered the number code on the door lock and opened the door.  I could hear the steady stream of rain pouring on the pavement above.
I entered the tiny, cold room. A rectangular metal table and three chairs looked as if they had been sterilized under the long florescent light that hung above.  I pulled out one of the chairs and sat down facing the door.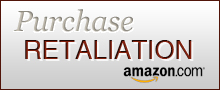 Whistleblower
Author: Amy Block Joy
Publisher: Bay Tree Publishing
Developmental Editor: Alan Rinzler
ISBN: 978-0-9819577-4-6
Pages: 240 (paperback)
Library of Congress Catalogue: Autobiography; Universities and colleges; higher education; moral and ethical aspects
Date of Publication: January 5, 2011
Distributor: National Book Network, Lanham, MD
Whistleblower is the nail-biting true story of what happens when someone with a lifelong habit of going along to get along is confronted with criminal activity she can't ignore. Amy Joy — scientist, educator, and program administrator — was happy and comfortable conducting research while administering a $14 million program for poor families. Certainly, nothing she had previously experienced prepared her for the resistance, collusion, and retaliation she encountered when she discovered embezzlement at the University where she had worked for more than 30 years.
What seemed like a simple path to justice turned into a nightmare that left her without friends or allies and threatened the end of an accomplished and respected career. This is the stunning true account of one woman's resolve to tell the truth at any cost.
An Excerpt
There was a tape recorder in the middle of the table. Another officer, quite tall, entered the room, gave me a brief, friendly nod, took a seat near the tape recorder, and handed a tape to the detective. His uniform was stretched tightly over his shoulders. A stream of words was coming out of his mouth, and I struggled to follow. His voice was deep, and he was speaking in what sounded like police code. He was whispering to the detective, but I was close enough to hear every word. It all sounded more like white noise, so I took a deep breath, sat bolt upright, and felt some long-lost feeling stirring inside me.
"In Amy Joy's courageous search for a moral compass, one victory transcends — Truth comes first! Whistleblower poignantly illuminates the dark for future truth-tellers."
— Daniel Ellsberg, author of Secrets and Academy Award nominee, Best Documentary, The Most Dangerous Man in America
"A great accomplishment … this is the most emotionally and factually complete account of a whistleblower I have come across."
— C. Fred Alford, Professor of Government, University of Maryland, College Park and author of Whistleblowers: Broken Lives and Organizational Power